Fendi laptop cases and other accessories
Fendi is a brand established in 1925 and right now the company is one of the Italian fashion leaders mostly because of the successful accessories line. The company has also such products as men's and women's clothing, they have a fur line, as well as timepieces and fragrances's line. There are also eyewear articles and home items, including bed linen and small decoration items.
Brand's bags both for women and Fendi men's bags can be obtained in numerous stores worldwide from new York to Hong Kong and throughout the Italy, of course.
This brand is great at making handbags for males, especially the messengers. They are very laconic on shape, executed in perfect leathers and spacious and comfortable inside. There is nothing excessive to remove or no details to add. Mostly the messengers are offered in Zucca pattern and the designs are simple and elegant. These leather and canvas handbags are quite practical as well, because the Italian handbag craftsmanship is undeniable and the leather will age beautifully in time.

There are also Fendi leather bags for men, for example, the Boston bag is a light brown briefcase for business and carrying documents. As regards the Fendi tote bags for the masculine clientele they, there are few beautiful models made of leather which are useful for shopping or traveling, but somehow these totes have not been too popular to say the least. Men mostly prefer messenger bags.

If you need a laptop case there are laptop bags in several sizes and materials. Fendi laptop messengers are really comfortable, not to mention the looks. If you want the best laptop bags, see through our extensive information on best designer laptop bags. Also brand bags by this Italian fashion house are more affordable in comparison to other designer brands that sell similar products online. The price may be smaller, but quality matches up to the more expensive Italian brands.

Let's have a look at the latest models sold online: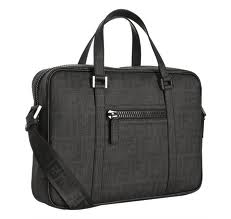 For example, the Zucca PU Computer Bag. Its price tag is $748.00 and it is sold via several online retailers and through auctions, such as ebay. The particular laptop bag offers you the following:
- coated canvas with silver shade metal details
- zipped pockets
- zip closure
- dimensions: 13.2 inches width, 10" height and 3" depth.
- adjustable shoulder strap.