Furla bags for men
Furla offers it all - from great leather briefcases for men to
perfect nylon and leather laptop bags that are both comfortable and stylish. If you want an Italian leather bag of decent quality, stylish look and price that will not disappoint, the Furla messenger bags and Furla laptop bags are a must-have for consideration.
Furla brand was started in post war period and as the typical Italian business, the company was a family owned company started by Aldo and Margherita Fulaneto who wanted to establish an enterprise that would be a world class manufacturer of leather goods. Their first store was opened in Bologna in 1955.
The brand has considerably expanded since then, however the core focus are the Furla handbags and shoes. This brand also sells jewelry, scarves and other small fashion articles.
Furla men's bag collection has a special deal on large vintage tote bags for men, where the leather of this masculine tote bag is aged to achieve the vintage looks. This handbag is also quite spacious and could be great for traveling.
The Furla Auckland men's messenger bag is a smaller shoulder bag in vintage leather. There is also a color variety available for this leather messenger bag.
This Italian brand also has document cases in leather, such as London document case. These are formal leather document cases in exquisite leathers and classic shape. If you would like to buy Furla handbag or shoulder bag for men, you can always have a look at their sale section. There are plenty of discount handbags available.

Let's look at some of the promotions right now. Currently Furla Man sale offers two great looking handbags at good price. First is Bahia Messenger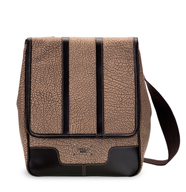 Discounted with 40 % reduction. Its current price is 153 EUR, which makes 217 USD. It is made in grained leather (calfskin). The grain is elephant grain print. The natural deep brown shade go well with the light brown color for bag's main body. It is sized 32 cm x 32 cm x 9 cm. In inches it makes 12.6" x 12.6" x 3.5". It is a very decent messenger for a very decent price.